Raising Chickens With Your Kids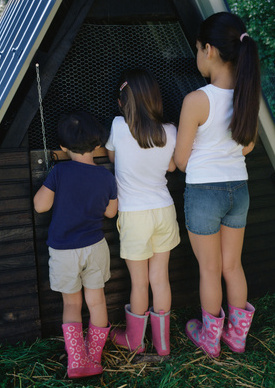 A Great Project For Kids!
Many people recently have been
talking about raising backyard chickens. Often they do it for
the fresh eggs they can harvest daily, the excellent fertilizer, or for meat. But now, people are beginning to choose chickens to help teach their children.
There are several reasons why
having chickens is great for kids.
Read on to find out more.
Kids Love To Collect The Eggs
Hens lay eggs even without a rooster; a 30-week-old hen will often lay around
2 eggs every 3 days. Kids love going outside to collect eggs, especially when they get to use them right away, to cook up for breakfast or as an ingredient in a food they love. Plus, your kids will know that they can grow food themselves rather than simply finding it on a supermarket shelf.
Chickens Are Great Pets
Although you might not imagine it, chickens all have their own personalities. Some chickens are affectionate with their owners and love attention, while others are very self-sufficient and do not interact much with their humans.

When choosing what breed of chicken to purchase, be sure to take temperament into account if you are buying them as a pet for your kids. They won't fetch a ball or curl up in your bed, but they can be wonderful pets if you choose the right breed and give them a little attention
Lessons In Responsibility
Chickens, like all animals, need to be cared for. Their coop and especially their nests need to be cleaned regularly, they need to be fed and watered, and of course, the eggs need to be collected daily. Kids often take charge of caring for chickens, and the chores are manageable but regular enough to teach your children the responsibility of caring for animals.
Get Started Right
Once you decide to buy chickens, you'll need to build a coop, and that's a project kids can help with as well, to get them excited for the chickens to come!

Right now - for a limited time, we are offering a free 49 page eBook called the Beginners Guide to Raising Chickens in a special bonus package. It's a great resource on how to get started raising your own chickens. To find out more - just click here and get it right away!