Caring for your chickens
Raising healthy chickens in your backyard chicken coop is not a high maintenance project. However, there are a few key items of chicken care that are important for success. Here are some tips and tricks to simplify the chicken care process.
Daily Maintenance
There are a few things you should do on a daily basis to make sure that your chicken coop is a safe and healthy place for your chickens. First, keep your feeders and waterers full with fresh food and water.

Second, while in the chicken house replenishing the food and water, check to see that the devices are clean. Your chickens will not want to drink dirty water, and a lack of water can easily lead to disease.

Third, observe your flock to make sure that they all look generally healthy and active. Early detection of any problems can save you lots of headaches in the long run and that's good chicken care.

Fourth, and maybe the most rewarding, collect and refrigerate eggs!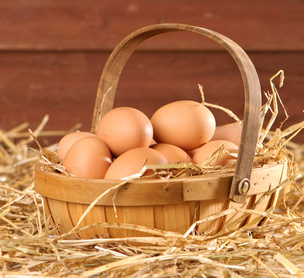 Monthly Maintenance
For good chicken care, about once a month, you should change the bedding in both the chicken coop and the nests. The most common material for nest bedding is fresh straw. You may use straw or wood shavings for the floor material.

Changing the bedding is important to prevent build up of ammonia from the chicken waste. Excessive ammonia can cause respiratory illness. You can also sprinkle some lime dust on the floor before putting down the bedding to help reduce odors.
Twice A Year Maintenance for the Chicken House
Twice a year you need to do a complete cleaning of your chicken coop. First, remove all bedding, waterers and feeders. Then hose out the whole place and wash it down with a cleaning solution of 1 part bleach, 1 part liquid dish soap and 10 parts water.

Give it a good scrubbing then hose it all off. Let things dry out well, and then replace all the bedding with fresh materials. While you're at it, this is a good time to thoroughly clean all the watering and feeding devices. Again, let them dry out well then replenish with fresh food and water.

A couple of hours doing this thorough cleaning will go a long way towards ensuring the health and happiness of your chickens.
Easy Clean Chicken Coops
Chicken care is an important factor in the overall design of your chicken coop. There is a ton of information in our FREE bonus 49 page eBook - Beginners Guide to Raising Chickens. If this kind of information makes sense to you, then check out this special limited time offer Click Here!.